Veterans Affairs (VA) Education Benefits at Meredith College
At Meredith, we recognize the important contributions our veterans and their families have made to our country and communities. We are committed to working with you to maximize the VA education benefits you have earned to help pay for your education.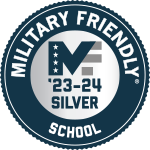 In fact, Meredith is a silver-level Military Friendly School, which highlights our support for veterans and their families. This data-driven list evaluates nearly 9,000 institutions and honors the colleges, universities, and trade schools in the country that are doing the most to embrace America's military service members, veterans, and spouses as students and ensure their success on campus.
Meredith College is approved by the Department of Veterans Affairs to certify students enrolled in our degree programs for benefits under the following chapters:
Chapter 30 (Montgomery G.I. Bill – Active Duty)

Chapter 31 (Vocational Rehabilitation)

Chapter 33 (Post 9/11 GI Bill)

Chapter 35 (Veteran's Spouses or Dependents)

Chapter 1606 (Selected Reserve)

Chapter 1607 (Reserve Educational Assistance Program)

Eligibility and chapter are determined by the Department of Veterans Affairs.
How to Activate Your Benefits at Meredith
Verify your eligibility and Chapter by visiting the VA website or contact them by phone at 1-888-GIBILL or (888) 442-4551.
Meredith has elected to participate in the Yellow Ribbon Program to make additional funds available for students' education programs without an additional charge to their GI Bill entitlement. To be eligible to participate in the program, you must be an undergraduate student and receive benefits at the 100% benefit rate.

If you do not meet any of the above Chapters but believe you are eligible for VA benefits, please contact VA (888) 442-4551 for other available chapters.
Complete an application for VA Education Benefits:
 First time using benefits (CH30 / CH33 / CH35 / CH1606):

Used benefits before:
The VA will process your application and send you a letter notifying you of their decision.
Please be aware that it may take the VA several weeks to process your claim. If you are approved to receive benefits, you will receive a certificate of eligibility letter from the VA.
Once you have received your certificate of eligibility, please submit a copy to the Veterans Certifying Official VA Enrollment Form.
Documents may be emailed to karowettjames@meredith.edu or sent to the following address:
Kelly Rowett James
VA School Certifying Official
Office of the Registrar
3800 Hillsborough Street
Raleigh, NC 27607
At the start of each semester, the VA School Certifying Official will submit an enrollment verification to the VA to initiate payments. You will receive an email confirmation.
You must notify this office if you change your major, withdraw, or add and/or drop classes. 
The VA will be notified of failure to maintain standards of attendance, progress, or conduct: When a student has failed to maintain the prescribed standard of attendance, progress, or conduct, the school must promptly notify VA so that VA can discontinue benefit payments in accordance with the law. 
If a student's progress or conduct becomes unsatisfactory, the termination date assigned by the school will be the last day of the term or other evaluation period in which the student's progress or conduct became unsatisfactory. In situations involving unsatisfactory attendance, benefits will be discontinued based on the student's last date of attendance as reported by the school.