BUSINESS
ADMINISTRATION
Business Administration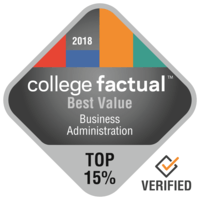 As a business administration major, you will gain the skills needed for today's competitive and complex global business environment. You will be prepared to pursue a career in fields such as human resource management, sales and marketing, banking, international business, management of nonprofit agencies and government service, or to own your own business.
Contact Information
111 Harris Hall
(919) 760-8154
.(JavaScript must be enabled to view this email address)
School of Business »
Meredith's highly personalized learning environment allows you to gain leadership skills through direct experience, and develop the skills to solve problems through teamwork. Meredith's strong liberal arts foundation will help you develop exceptional critical-thinking skills and the personal conviction to make ethical and responsible decisions.
Featured Video
Meredith's business program prepares graduates to succeed in a competitive, global environment through real-world experience, including internships with top firms.
Click
button below the video to turn on audio description.
Note: Audio description is narration added to the soundtrack to describe important visual details that may not be understood from the main soundtrack alone.
Broyhill Business Fellows
The Broyhill Business Fellows Program at Meredith prepares students for top internships and job placements through specially designed leadership and professional-development activities that complement any field of study in the School of Business.
Internships
Internships give business students essential professional experience. Meredith helps students identify high-quality, professional experiences, which often lead to full-time job offers. Recent placements include Credit Suisse, Lenovo, and Merrill Lynch.